Licensed Psychologist
Offering Telehealth Services in: Minnesota
Click here to request an initial consultation with Dr. Brown.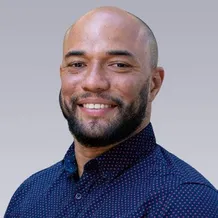 Treatment Approach & Areas of Expertise
I specialize in working with clients who are experiencing mental health challenges such as anxiety, depression, traumatic stress, and other emotional difficulties. I also help individuals navigate relationships and other life events such as school, family, or work-related stress. Additionally, I have worked with clients who are experiencing challenges related to various aspects of their identity, such as race, ethnicity, sexual orientation, and/or gender identity. My background and approach to psychotherapy are eclectic, integrating various aspects of cognitive behavioral, solutions-focused and process oriented therapy, as well as other therapeutic modalities depending on the client's needs. I take an ecological systems perspective, typically exploring each client's own environment as we develop goals and strategies to achieve them. I view therapy as a collaborative process, where I work with clients very closely, adjusting the therapeutic process as necessary.
Training & Experience
In addition to seeing clients with INSPIRE, Dr. Brown is an Assistant Professor in the Department of Counseling and School Psychology at San Diego State University where he teaches in the graduate level School Psychology Program. His current research focuses on the intersection of discrimination, racial, ethnic and sexual orientation identity, and mental health outcomes. Dr. Brown has also served as a Diversity and Inclusion Research Fellow at the Partnership on AI, with whom he has published work on the retention of minoritized workers in the tech industry. He has published his work in several journals, including Psychology in the Schools and the Journal of Emotional and Behavior Disorders, and has presented this work at national and international conferences. Dr. Brown is also the co-chair of the Committee on Racial and Ethnic Diversity for the American Psychological Association's Division 44 (Society for the Psychology of Sexual Orientation and Gender Diversity). He has previously worked as a behavioral consultant in school settings and as an Assistant Professor in psychology at Minnesota State University, Mankato, where he also completed his postdoctoral training with a focus on counseling.

Please see below for additional details regarding Dr. Brown's credentials.
PhD in School Psychology
Tulane University
Predoctoral Internship
Louisiana School Psychology Internship Consortium, Louisiana Health Sciences Center
Fellowship
Student Counseling Center, Minnesota State University, Mankato
Services: Individual psychotherapy for adults
Specialties: trauma; emotion dysregulation; depression; anxiety; effectively managing extreme mood swings that include emotional highs and lows; phobias; reduced self-esteem; navigating life transitions; relationship and interpersonal difficulties; professional burnout; stress management; perfectionism; coping with high academic or professional demands
To Contact Dr. Brown directly
Call: (202) 935-3650, Ext. 5
Email: [email protected]